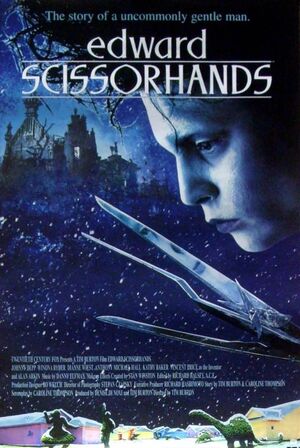 A story about a young man, with scissors for hands, and he falls in love with a teenage girl. Released in 1990
Edward Scissorhands was an creation created by an The Inventor. Edward is very much like a real man, except for that the inventor died before he could give Edward hands, leaving him with scissors instead. When Peg comes along and takes him down to the town, Edward is impressing everyone, with his talents. He also falls in love with Peg's daughter, Kim. Things may start out well, but then fall for the worst.
Ad blocker interference detected!
Wikia is a free-to-use site that makes money from advertising. We have a modified experience for viewers using ad blockers

Wikia is not accessible if you've made further modifications. Remove the custom ad blocker rule(s) and the page will load as expected.