Tim Burton has many amazing talents. Directing, writing, coming up with creative ideas, and art. Tim was always
interested in art. And to this day he still is. Tim creates art for his films. He may use pastel, pen and ink, or even as simple as a pencil to create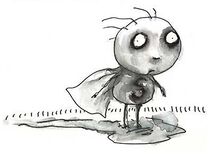 true visionary illistrations. He has created many art works which are famous around the world, such as his Edward Scissorhands masterpiece (Pictured Right) , Stainboy (Pictured Left), and more including these in the Tim Burton Art Gallery.
Ad blocker interference detected!
Wikia is a free-to-use site that makes money from advertising. We have a modified experience for viewers using ad blockers

Wikia is not accessible if you've made further modifications. Remove the custom ad blocker rule(s) and the page will load as expected.